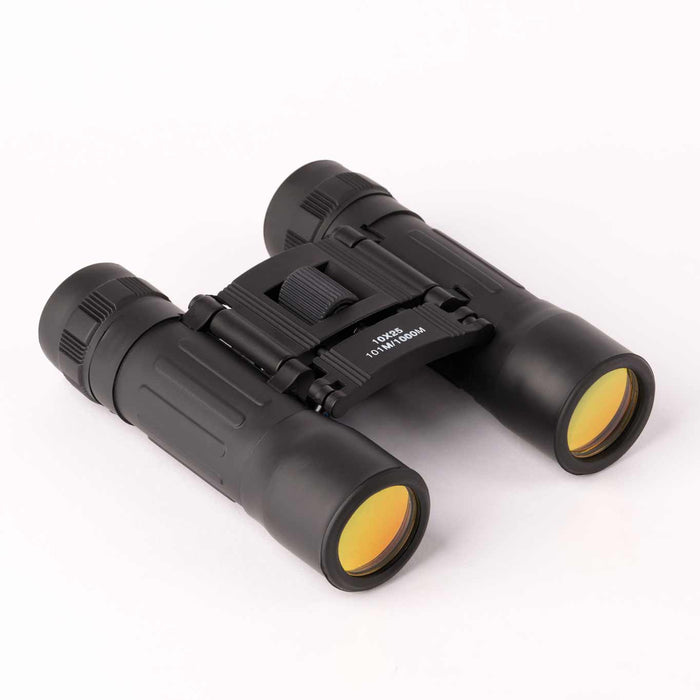 These handy binoculars boast 10x magnification and 21mm objective lenses. This model is lightweight, and comes with its own carry case.
10x magnification and 25mm objective lenses
Compact and lightweight binoculars
Ideal for travel or everyday use
Lenses coated to reduce glare
See far away stuff in close up with these light and handy 10x25 binoculars! Easy to take with you wherever you go, what you do with them is up to you!
Have you ever been in the "nosebleed seats" at a concert or sports event and wished you had a pair of binoculars with you so you could see what was going on? The 10 x 25 travel binoculars are just what you need for camping, hiking, wildlife watching, hunting, sports, concerts and all kinds of situations where you need to get a close up view of the action! They are compact and lightweight and ideal to take with you in a bag, backpack or briefcase.

Approx. Dimensions (Packaging): 7 (H) x 13 (W) x 5 (D) cm / 2.8 (H) x 5.2 (W) x 2 (D) inches. 10x magnification and 25mm objective lenses Includes soft carry case

These binoculars have a 10 x magnification together with 25mm objective lenses which makes them a good all-purpose binocular for casual use. The lenses are coated to help reduce glare. A soft travel case is included to help protect the binoculars on your adventures!

Both kids and adults will appreciate these binoculars; they are great to take with you on nature hikes, camping trips or travel abroad, but they are so compact and light that you could easily take them with you everywhere you go because you never know when you might stumble upon an unusual animal or fish or some other far distant spectacle that needs to be seen closer.

Travel binoculars are a fantastic holiday gift for your favourite world traveller, nature enthusiast or sports fan! They will also be appreciated for other occasions like a birthday or Easter as an alternative to electronics or socks!