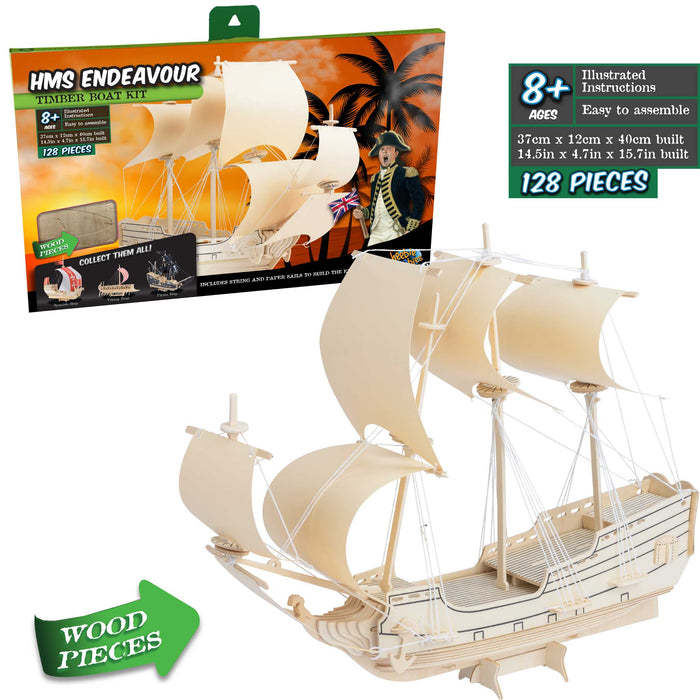 Please order in complete units of 2
128

 

pieces
illustrated instructions
37cm x 12cm x 40cm build size
14.5" x

 4.7

" x 15.7" build size
HMS Endeavour, was a British Royal Navy research vessel that Lieutenant James Cook commanded to Australia and New Zealand on his first voyage of discovery from 1768 to 1771.

She was launched in 1764 as the collier Earl of Pembroke, with the Navy purchasing her in 1768 for a scientific mission to the Pacific Ocean and to explore the seas for the surmised Terra Australis Incognita or "unknown southern land". Commissioned as His Majesty's Bark Endeavour, she departed Plymouth in August 1768, rounded Cape Horn and reached Tahiti in time to observe the 1769 transit of Venus across the Sun. She then set sail into the largely uncharted ocean to the south, stopping at the islands of Huahine, Bora Bora, and Raiatea west of Tahiti to allow Cook to claim them for Great Britain. In September 1769, she anchored off New Zealand, becoming the first European vessel to reach the islands since Abel Tasman's Heemskerck 127 years earlier.

In April 1770, Endeavour became the first ship to reach the east coast of Australia, with Cook going ashore at what is now known as Botany Bay. Endeavour then sailed north along the Australian coast next stopping at the now-town of Seventeen Seventy/Agnes Water in late May 1770. She narrowly avoided disaster after running aground on the Great Barrier Reef, and Cook had to throw her guns overboard to lighten her. Endeavour was beached on the Australian mainland for seven weeks to permit rudimentary repairs to her hull. Resuming her voyage, she limped into port in Batavia in October 1770, her crew sworn to secrecy about the lands that they had visited. From Batavia Endeavour continued westward, rounded the Cape of Good Hope on 13 March 1771 and reached the English port of Dover on 12 July, having been at sea for nearly three years.